DOGS AT STUD
click on any photo for a larger image. Click on the dogs call name to go to his page.
Cur-San's is pleased to offer the following quality dogs at stud:
---
CH CUR-SAN'S RUFF CUT MH "CUTTER" click here for pedigree
2005 - 2015
OFA 8867G ELB normal 1254 PRA A by parentage cerf. 6181/09
DM 16 NORMAL EIC tested NORMAL
AKC & UKC Registered








Cutter is classic brown and goes about 77 pounds. A great temperament and has sired litters of nice looking working dogs. He is a fun dog to have around and still able to do the work. I plan to get some upland hunting in this year and I think he will be great at this also.
Check out this issue of "The Retriever Journal" June/July 2010 Cutter is on the Cover!
---
CH. CUR-SAN'S DIVIDEND MH "CASH" click here for pedigree
OFA hips 9845E, Elbows EL1885 normal, PRA A by parentage,
EIC clear, DM645 clear, EYE 876/81 (06/27/16)
AKC SR58618508 UKC R226-910

Cash has finished his show championship and also his Master hunter. His field training is going well. He is dark brown and weighs 95 lbs. in working condition. Will be adding some more photos shortly. His puppies are out there working well and looking great.
---
HR & CH. SILVER CREEK SPORT MH "SPORT" click here for pedigree
1999 ----2008
only frozen sperm available as of Nov. 2008
OFA 6657E EL00420 Optigen A Cerf. 3738/05 DNA-V141558 AKC & UKC Reg.
DM tested Affected EIC Clear/normal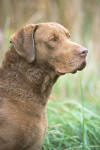 Sitting photo by Redlion / Head by K. Herschberger
Sport has an excellent temperament and loves to do field work. He is classic brown in color and weighs in at 95 pounds in working condition. He is a fast hard going dog with a lot of drive. Hunts hard all day in cover. He has been hunted both upland and waterfowl.
Sport has his Master hunter title and also has jammed two large entry Qualifying. He also completed his bench Championship early in his career. In the UKC registry he has his HR (hunting retriever) He was stud dog of the year in 2007 in the UKC registry.